Hydraulic seals

Hydraulic cylinder seals are used to seal the opening between various components in the hydraulic cylinder. Fig. 1 shows an example of the seal and guide components of a heavy duty cylinder.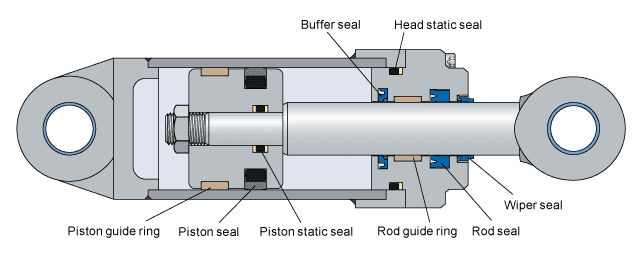 From one to a million – A complete offering


SKF offers a comprehensive selection of sealing products for extremely demanding applications. Whether you require high quantities for larger production volumes or a single replacement seal, SKF can meet your product and delivery needs.

These piston seals from SKF utilise our capability to seamless transfer between manufacturing processes – from a single piece to high volume production. This flexibility delivers quality sealing products that provide maximum value to all customers.

Manufacturing flexibility
Whether you need a single seal or a high volume production run, SKF can support your needs. Our lexible seal production model combines moulded and machined manufacturing capabilities to accommodate virtually any demand.

With competencies in compression, injection and transfer moulding technologies, SKF can apply the most appropriate option for your requirements. With the machined seals concept, we are also able to provide machined seals very quickly, without tooling costs.
Machined seals (light blue area in the graph)

To cost effectively produce prototypes and seals in low volumes with short delivery time (in the introduction, initial growth, declining phase and to meet replacement demand at the end of the product life time).
Moulded seals (dark blue area in the graph)

To cost effectively produce seals in high volumes (in the growth and maturity phase).
Product Life Cycle Stages