Progressive lubrication systems


for oil, fluid grease and grease
SKF ProFlex and Lincoln Quicklub progressive lubrication systems can be used on small- to medium sized machines with dispersed lubrication points that require varying lubrication quantities.
Progressive lubrication systems consist of a pump connected to at least one primary metering device. If needed, second level metering devices can be connected to the outlets of the primary metering device to increase the number of lubricated points.
The pump supplies lubricant to the metering devices with pressure up to 550 bar (8 000 psi), depending on the pump model. The metering devices split the lubricant into even or predefined amounts of lubricant, depending on metering device. SKF's progressive systems can dispense a precise, metered amount of lubricant to up to 150 lubrication points over distances of approximately 15 m (16 yd). For oil applications, even in connection with flow limiters we can cover distances over 100 m (110 yd).
SKF progressive systems provide continuous lubrication as long as the pump is in operation. Once the pump stops, the pistons of the progressive metering device will stop in their current positions. When the pump starts supplying lubricant again, the pistons will carry on where they left.
Discover how SKF progressive lubrication systems work
Overview of progressive lubrication systems for oil, fluid-grease and grease
Benefits and applications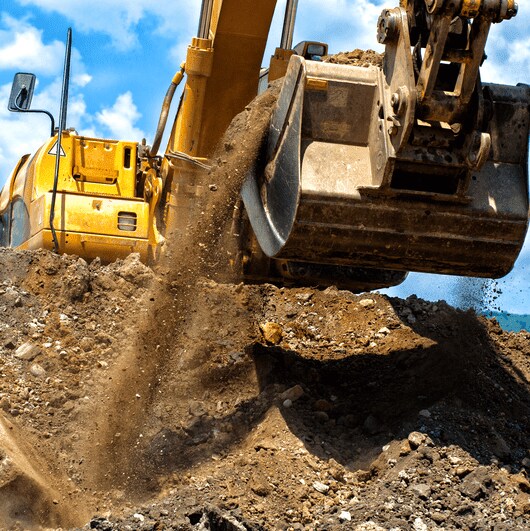 Continuous lubrication
Delivers frequent and measured amounts of lubricant to each lubrication pointReliable monitoring and control
Easy system monitoring and simple blockage control, integrated system control and monitoringVariety of applicationsconstruction machines (concrete pumps, mortar pumps, loaders, excavators, trenchers)on-road trucks (snow removal, waste press)agricultural machines (harvesters, balers, manure spreaders, sugar cane loaders)wood reclaimersmaterial handling (reach stackers, crane carts)asphalt mixing plantswind turbine generatorsfood and beverage facilities (fillers, washing machinesoil and gas industry reciprocating compressorsEffectively in harsh conditions
potentially high lubrication-point back pressure, dirty, wet or humid environments (including ATEX / EEX), and low temperatures
Pumps
Metering devices
Monitoring devices
Control units
Lubrication points grouped together and served from one supply point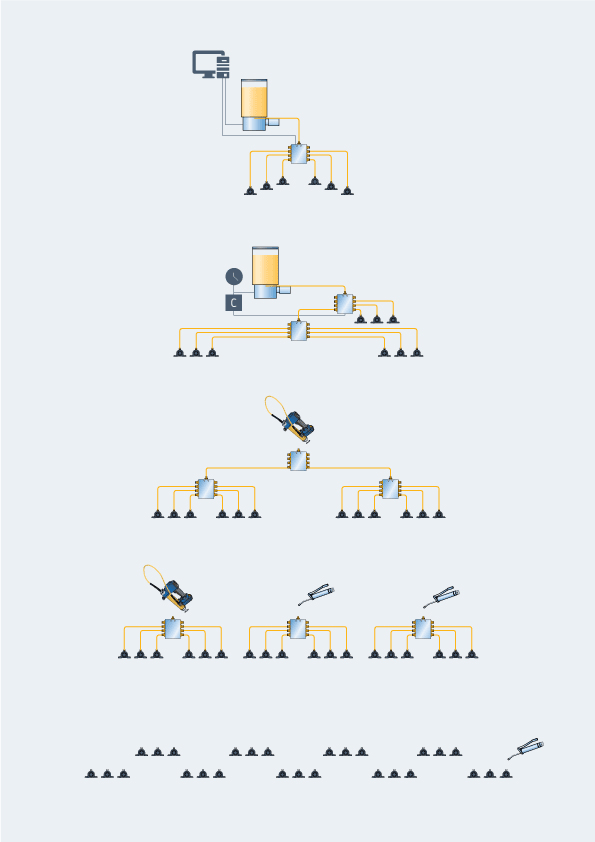 SKF lubrication systems are based on the principle of grouping lubrication points together that can be serviced from one supply point. Our modules build upon each other – enabling the system to grow in accordance with our customer's requirements. This enables us to offer a custom-tailored lubrication solution for individual needs.
Easy

All lubrication points are supplied from a central point. Lube points which are normally difficult to access can now be serviced quickly and efficiently – with the right quantity of lubrication for every point.
Flexible

Depending on the environmental conditions, you can choose the proper lubrication interval without a tedious procedure. Frequent lubrication builds-up a grease collar protection that inhibits water and dirt from penetrating the bearing, preventing premature wear.
Retrofittable

Due to its modular design, the system can be expanded or retrofitted with an automated lubrication pump at any time. High-pressure plugin fittings provide an easy and quick installation. The advantages of easy maintenance procedures are affordable and can be achieved with little effort.