Multi-line lubrication systems


for oil, semi-fluid grease and hard grease
SKF multi-line lubrication systems consist of the following components: a pump unit, control and monitoring devices, tubing and fittings. Multi-line pump units supply lubricant to lubrication points without extra metering dividers. Thus, each lubrication point has its own pumping element. The system design is simple, accurate and most reliable. Multi-line pumps can be actuated mechanically, electrically or hydraulically. The easily exchangeable pumping elements are usually operated by eccentric cam.
Delivery range depends on drive speed, gearbox ratio and selected pump element size. It ranges from almost 0 to 227 cm³/min (0 to 13,85 in³/min) in multi-line oil systems. In multi-line grease systems 0 to 35 cm³/min (0 to 2.13 in³/min) can be covered.
By selecting pumping elements with different piston diameters and/or stroke settings, an individual lubrication volume setting per pump outlet is possible. The potential number of outlets ranges from 1 to 30.
SKF multi-line oil and grease pumps are designed for demanding applications in nearly all industries and for pressure requirements up to 4 000 bar (58 000 psi).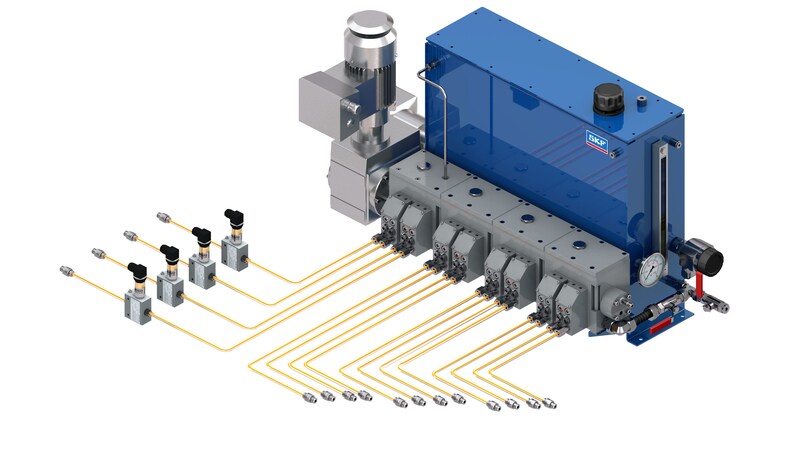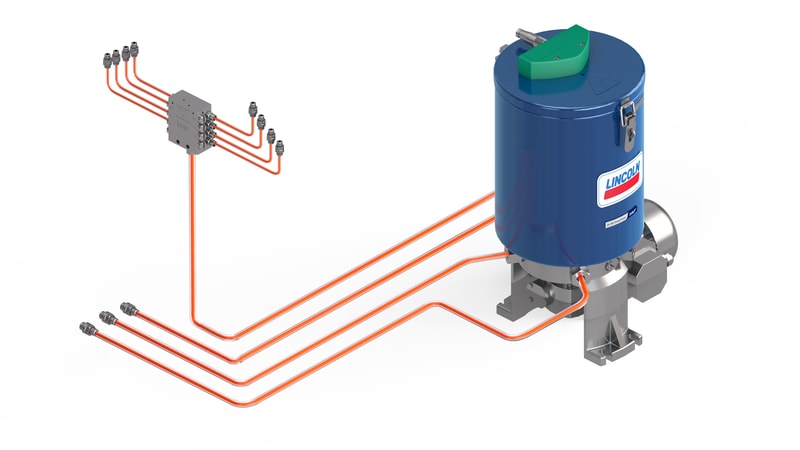 Overview of multi-line lubrication systems
Benefits and applications
Sturdy
Durable pump series designed for 24/7 operationSimple
Continuous lubrication without electrical cycle timers, in most casesVersatile
Select individual pump element characteristics and reservoir sizePrecise
Set the required stroke volume at the pumping elementMulti-line oil systems:Broad viscosity range due to special designs and small piston clearanceVacuum pumps, compressors (all types) and hyper-compressor industryCombustion engines for valve and cylinder liner lubricationRubber-mixing machinery, supply of critical plasticizer oilMeet ATEX and API standards in the oil and gas industryMulti-line grease systems:Due to the use of a built-in stirrer and broad viscosity range, heaters are not requiredConstruction and mining machineryTunnel-boring machinesForging, bending, forming and cutting pressesCrushers, cranes and conveyorsPumps and compressorsRubber-mixing machineryWater and slurry pumps
Pumps
Monitoring devices
Control units