Oil circulation lubrication systems


SKF CircOil
SKF CircOil systems are designed primarily for oil circulation lubrication to lubricate as well as cool highly stressed bearings in nearly every size of machine. Additionally, the returning oil removes and filters out wear particles from friction points and prevents corrosion damage by removing air and water from bearings. Thus, a continuous oil flow is necessary.
SKF CircOil systems include a wide range of customized and turnkey solutions for flow rates from 0,1–3 000 l/min. They are simple to service and feature a modular design that can be expanded easily. Our patented tank design with the SKF plate separator technology increases operating efficiency to up to 90%. An oil supply system delivers the lubricant to the adjustment valves with individual settings. Flow rates can be controlled visually or electronically. Monitoring systems with a flow rate read-out function and individual warning levels are available for a more predictive maintenance approach.
Oil circulation lubrication systems are used in pulp and paper and printing industry, as well as in many other industries. They also are used in heavy industries like marine or tunnel boring. In addition, SKF offers a range of oil circulation EEX components and systems specially designed for operations in harsh conditions and explosive atmospheres like mining or cement mills.
SKF oil circulation systems consist of the following components:
An oil supply unit with oil reservoir and pump unit/station (optionally equipped with filters and oil conditioning units)
A control device
One or several monitoring devices
One or several flow metering devices
One or several sump units
Fittings and pipes
When planning a lubrication system, ambient conditions must be determined first. The number of lubrication points, back pressures at the lubrication points, operating temperature range, the feed pump's drive energy, control and monitoring etc. must be defined correctly. Attention also must be given to bearing or lubrication point information. The sum of all the quantities metered out by the system's metering devices needs to be completed by safety margin and expansion and compressibility loss.
SKF application engineers as well as SKF sales partners and distributors, are experts in designing lubrication systems according to these specifications. A lubrication system laid out by SKF and partners ensures the supply of the correct amount of lubricant at the best time to lubricate. This reduces wear and minimizes pollution caused by over-lubrication.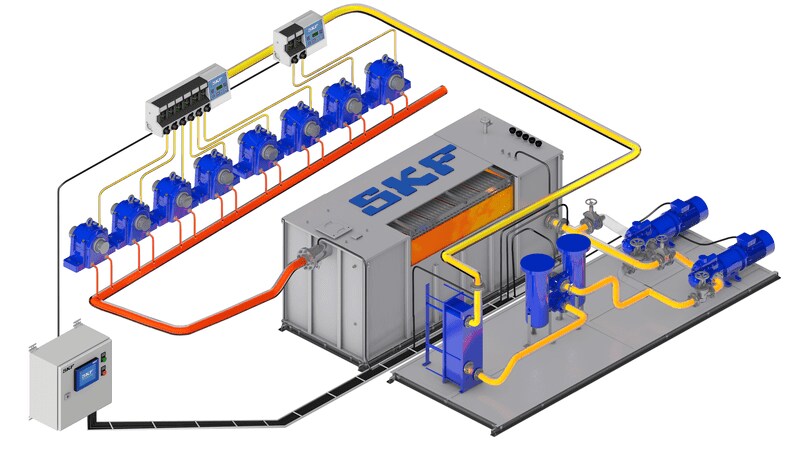 Overview of components for circulating oil lubrication systems
Benefits and applications
Cools highly stressed bearingsRemoves particles from bearingsDurable pump series designed for 24/7 operationOil reservoir sizes from 3 to 40 000 liters (0.79 to 10 567 gal)High operating efficiencyEasy expansion of the lubrication systemAble to pump long distances and within a wide temperature range
SKF CircOil lubrication systems are suitable for various industries that operate 24/7.
Pulp and paper industryMetalsAutomobile pressesAutomationPrintingFood and BeverageATEXAPI
Pumps and supply units
Metering devices
Monitoring devices
Control units