Ultrasonic leak detector


Quick and easy detection of air leaks
The SKF TKSU 10 is an ultrasonic leak detector that helps users to quickly find leakages in compressed air or vacuum systems. The instrument is very simple to use and features adjustable sensitivity and intuitive guidance for superior leak detection results.
Any compressed air system can experience leaks, which amplify the load on compressors and increase costs. The TKSU 10 helps users to easily find leaks from a distance, even in noisy industrial environments, via its ultrasound measurement sensor. The built-in LED display assists the user in adjusting sensitivity and shows the measured ultrasound noise from leaking air, allowing the quantification of leaks and prioritization of repairs.

Key features and customer benefits
Easy to use; no training required
Leak detection from a distance in noisy industrial environments
Color LED display assists in adjusting sensitivity settings and shows measurement values
Reduces energy and maintenance costs via leak identification and repair
Lightweight, handheld device with industrial headset included
Independently adjustable sensor sensitivity and headset volume
Flexible probe helps find leaks in difficult-to-access locations
Headset features neck-band design to wear with protective helmet


The TKSU 10 is designed for use in all industries utilizing compressed air, and it is particularly recommended for paper and chemical industries, as well as workshops with air-driven power tools.

TKSU 10 components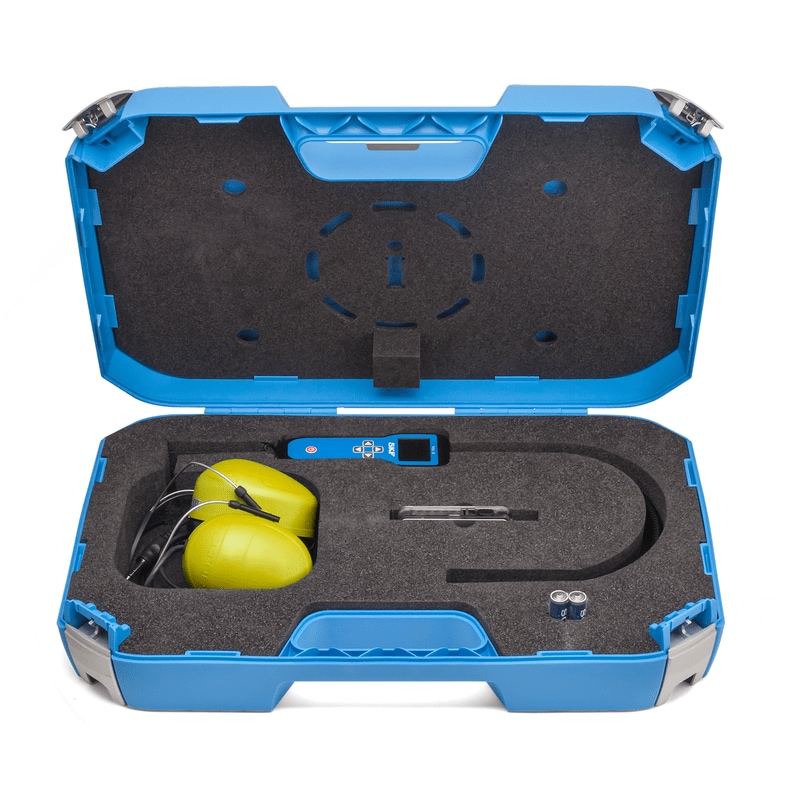 Leak detector
Headset with neck-band
Flexible ultrasound probe
Batteries
USB cable
Mini multi-functional tool
SKF carrying case


TKSU 10 is simple to use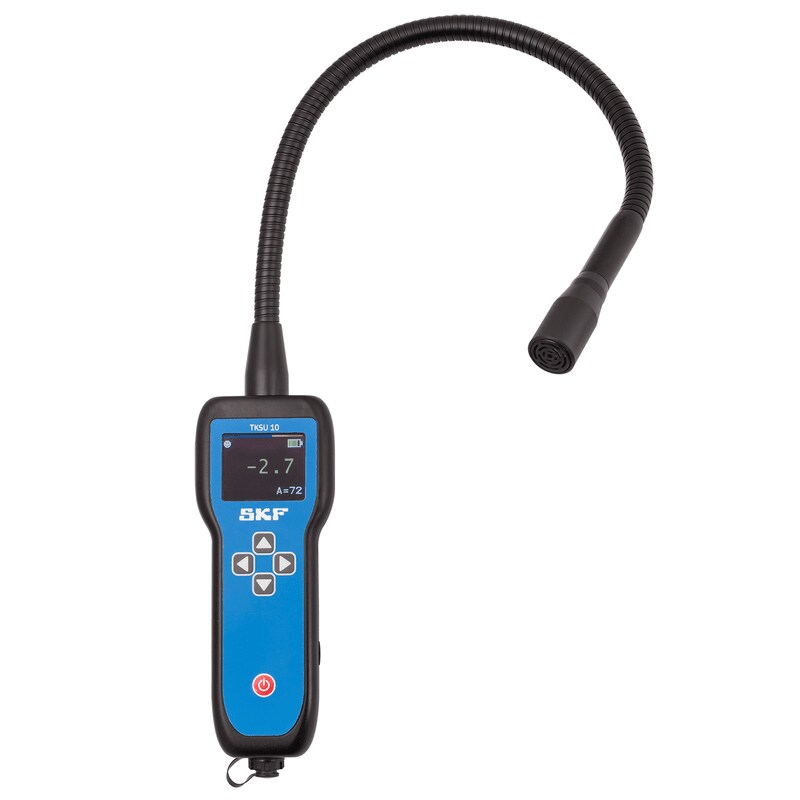 Put on headset
Turn on device
Adjust sensitivity as shown on the screen
Scan area and find leakage
Get closer to pinpoint leakage and adjust sensitivity as shown
Mark leak and note leakage details
Take corrective action


Technical data
Technical data
Designation
TKSU 10
Description
Ultrasound leak detector
Measurement channel
1 channel via a 7 pole LEMO connector
Display
Color OLED
Keyboard
5 function keys
Measuring range
-6 to 99,9 dBµV (reference 0 dB = 1 µV)
Resolution
0,1 dBµV
Measurement Bandwidth
35 to 42 kHz
Signal amplification
+30 to +102 by step of 6 dB
Audio
Amplification
5 adjustable positions in steps of 6 dB
Maximum output
+83 dB SPL with supplied headset
Headset
25 dB NRR Peltor HQ headset
Headset connector
Stereo jack connector of 6,35 mm (1/4 in)
Power
Battery
2 AA batteries
Battery life
7 hours
Environmental
Operating temperature
From –10 °C to +50 °C (14 °F to 122 °F)
IP rating
IP42
Mechanical
Housing material
ABS
Dimensions instrument
158 × 59 × 38,5 mm (6.22 × 2.32 × 1.51 in)
Flexible rod length
445 mm (17.51 in)
Weight instrument (incl. batteries)
350 g (0.78 lb)
Carrying case dimensions
530 × 110 × 360 mm (20.9 × 4.3 × 14.2 in)
Total weight (incl. case)
3 kg (6.6 lb)
Spare parts
Related documents
Product data sheet TKSU 1
(151 KB)
Instructions for use TKSU 1
(682 KB)