Endoscopes


Fast and easy inspection with video function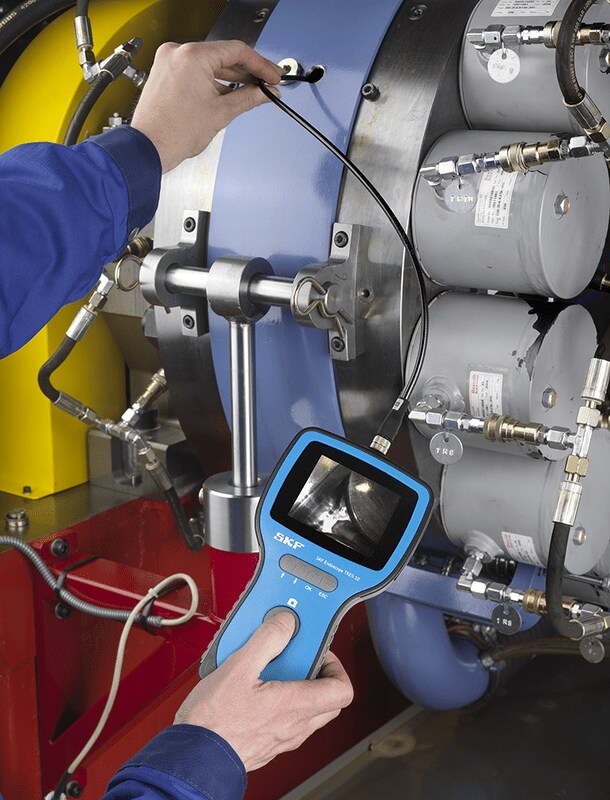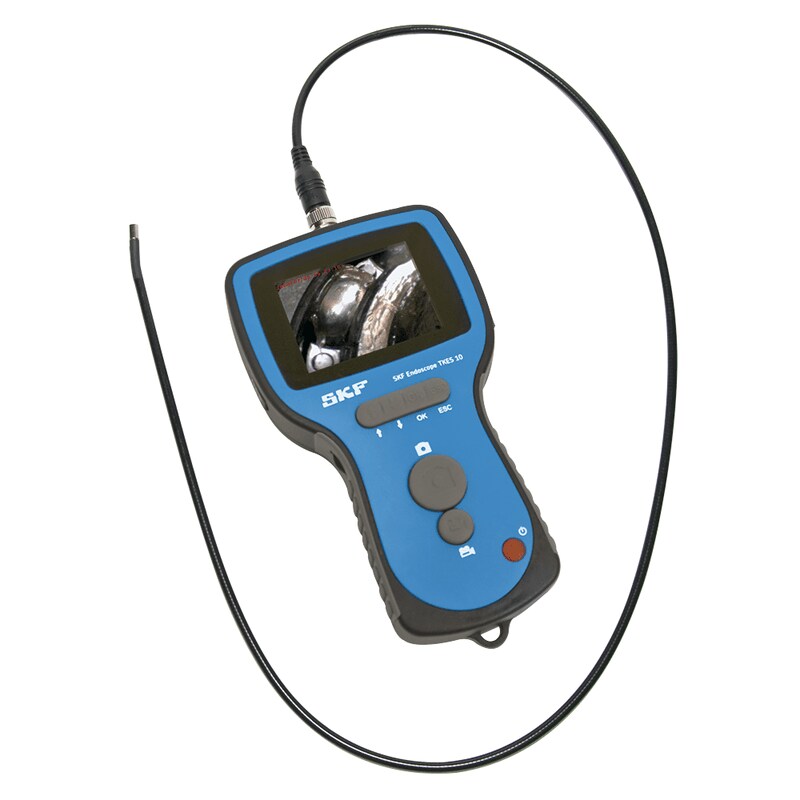 SKF Endoscopes TKES 10 series are first line inspection tools that can be used for internal inspection of machinery. They help minimise the need to disassemble machinery for inspection, saving time and money. The compact display unit, with 3.5" backlit screen, allows images and video to be saved and recalled, or to be downloaded and shared with others. Three different models cater to most needs and are equipped with powerful variable LED lighting allowing inspections in dark locations.
High resolution miniature camera, with up to 2™ digital zoom, gives a clear and sharp full screen image.


Available with a 1 metre (3.3 ft) insertion tube in three different variants; flexible, semi-rigid or with an articulating tip.


Small tip diameter of 5,8 mm (0.23 in.), with a wide field of view, allows easy access to most applications.


Supplied with a side view adapter allowing inspection of applications such as pipe walls.


Powerful magnets, and a tripod mount on the back of the display unit, allow the display unit to be used "hands free".


Up to 50 000 photos or 120 minutes of video can be stored on the SD memory card supplied.


Longer flexible and semi-rigid insertion tubes are available as accessories.
Supplied in a sturdy carrying case complete with all necessary cables, universal mains charger and cleaning kit.
TKES 10F

Display unit with flexible tube (fig 1)
TKES 10S

Display unit with semi-rigid tube (fig 2)
TKES 10A

Display unit with tube with an articulating tip (fig 3)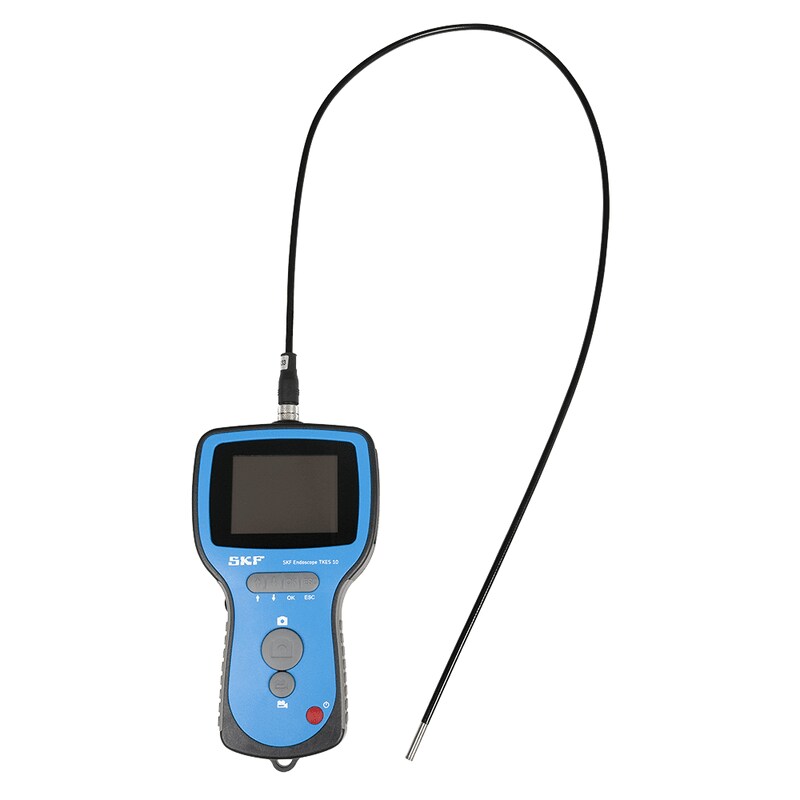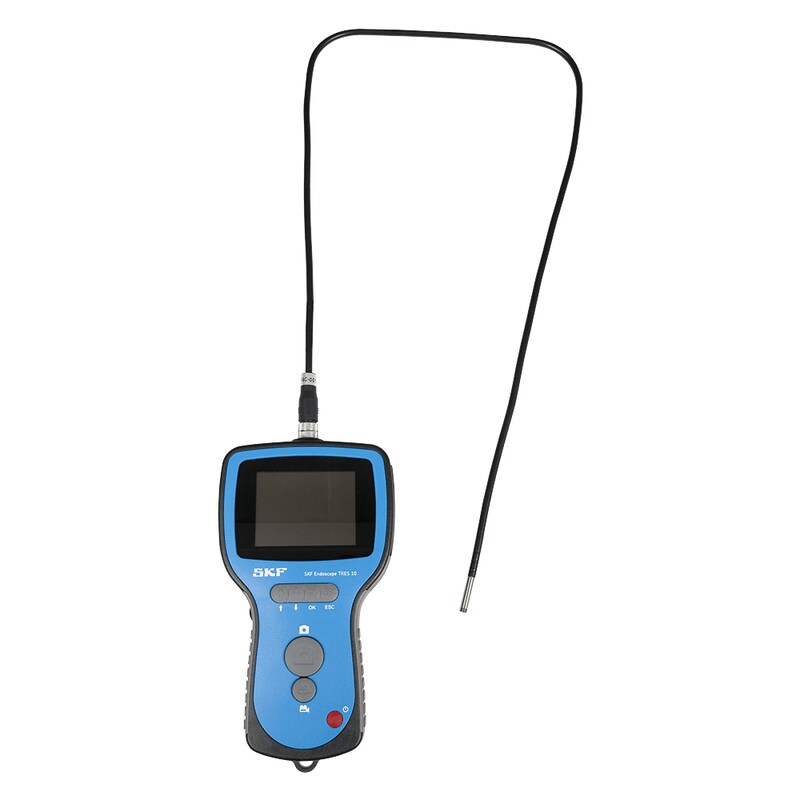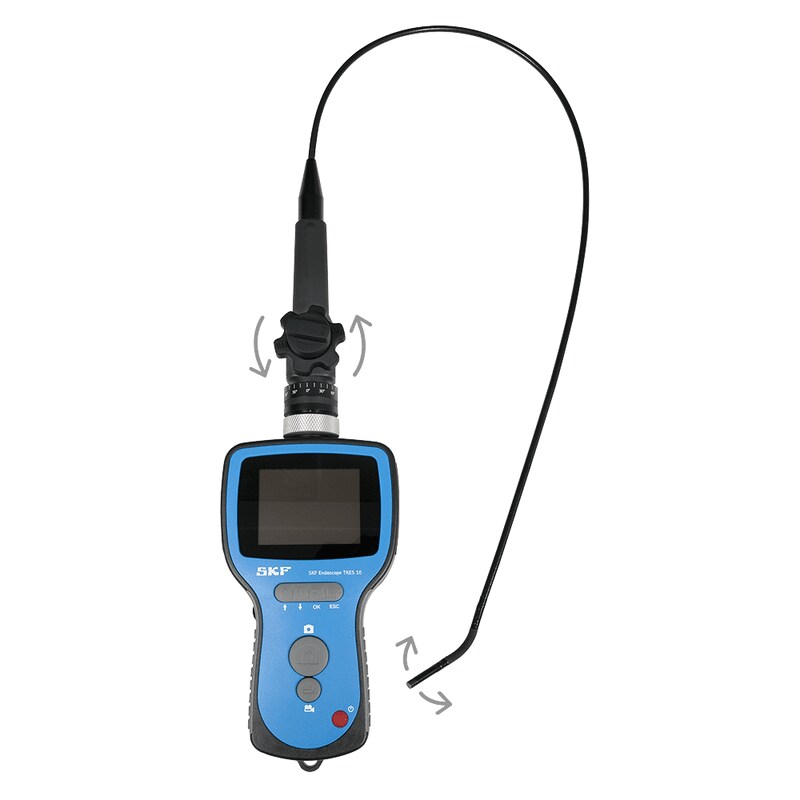 Technical data
Display unit
Technical data – Display unit
Power

5 V DC

Display

3.5" TFT LCD Monitor 320 ™ 240 pixels  

Interface

Mini USB 1.1 / AV out / AV in/

Battery (not user serviceable)

Rechargeable Li-Polymer Battery (3.7 V).

Typically 4 hours operation after a 2 hour charge.

Video out format

NTSC & PAL

Recording medium

SD card 2 GB supplied – storage capacity ±50 000 photos, or 120 minutes video. (SD/SDHC Cards up to 32 GB can be used)

Output resolution (H x V)
 

– Still image (JPEG)

640 x 480 pixels

– Video recording format (ASF)

320 x 240 pixels

Temperature range
 

– Working and storage

-20 to +60 °C (–4 to +140 °F)

– Battery charging temperature range

0 to 40 °C (32 to 104 °F)

Functions

Snapshot, Video recording, Picture & video review on LCD screen, TV Out, transfer of picture & video from SD card to PC

TKES 10F
TKES 10S
TKES 10A
Accessories and spare parts
Accessories
Accessories
Designation
Description
Length
TKES TF-2

Flexible insertion tube

2 m

TKES TF-3

Flexible insertion tube

3 m

TKES TF-5

Flexible insertion tube

5 m

TKES TS-2

Semi-rigid insertion tube

2 m

TKES TS-3

Semi-rigid insertion tube

3 m

TKES TS-5

Semi-rigid insertion tube

5 m

TKES TA-3

Articulated insertion tube in a case

3 m

Spare parts
Related documents
Product data sheet TKES 10 series
(204 KB)
Instructions for use TKES 10
(773 KB)