Chain oils


Designed to fulfill the requirements of most industrial chain applications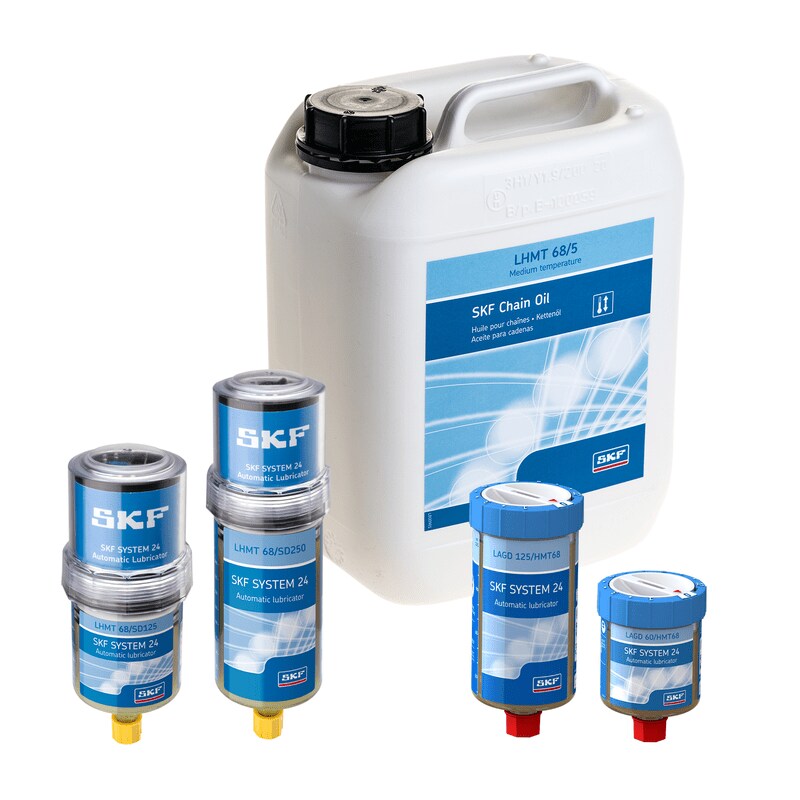 LHMT 68
SKF LHMT 68 is ideal for medium temperatures and dusty environments like those of cement and material handling industries, where a high penetration and light film are required.
LHHT 265
SKF LHHT 265 synthetic oil is ideal for high load and/or high temperature conditions, like those found in the pulp and paper and textile industries. It doesn't form any residue at high temperatures and it is neutral towards seals and polymers.
Benefits
Increase chain life
Increase re-lubrication interval
Reduce oil consumption
Reduce energy consumption
Typical applications
Conveyor chains
Drive chains
Lift chains
SKF Chain Oils are available in 5 litre cans and as an oil fill for the SKF SYSTEM 24 single point automatic lubricators LAGD and TLSD series.
Technical data

Designation

LHMT 68

Description

Medium temperature oil

Specific gravity

0.85

Colour

Yellowish brown

Base oil type

Mineral

Operating temperature range

–15 to +90 °C (5 to 195 °F)

Base oil viscosity:

40 °C (104 °F), mm²/s

100 °C (212 °F), mm²/s


ISO VG 68

approx. 9

Flash point

>200 °C (390 °F)

Pour point

≤15 °C (5 °F)

Available pack sizes:
Can 5 liter
LHMT 68/5
SKF SYSTEM 24 LAGD series

Unit 60 ml

Unit 125 ml


LAGD 60/HMT68*

LAGD 125/HMT68*
SKF SYSTEM 24 TLSD series

Complete unit 125 ml

Complete unit 250 ml

Refill set 125 ml

Refill set 250 ml


TLSD 125/HMT68

TLSD 250/HMT68

LHMT 68/SD125

LHMT 68/SD250
* Includes non-return valve
Technical data
Designation


LHHT 265

Description

High temperature oil

Specific gravity

0.91

Colour

Yellow orange

Base oil type

Synthetic ester

Operating temperature range

Up to 250 °C (480 °F)

Base oil viscosity:

40 °C (104 °F), mm²/s

100 °C (212 °F), mm²/s


approx. 265

approx. 30

Flash point

approx. 260 °C (500 °F)

Pour point

n/a

Available pack sizes:
Can 5 liter
LHHT 265/5
SKF SYSTEM 24 LAGD series

Unit 60 ml

Unit 125 ml


–

LAGD 125/HHT26*
SKF SYSTEM 24 TLSD series

Complete unit 125 ml

Complete unit 250 ml

Refill set 125 ml

Refill set 250 ml


TLSD 125/HHT26

TLSD 250/HHT26

LHHT 265/SD125

LHHT 265/SD250
* Includes non-return valve