Disc couplings

KD disc couplings provide reliable transmission of mechanical power from driving to driven machine where low maintenance, non-lubricated couplings are required.
KD disc couplings are specifically designed to accommodate general purpose drive system applications such as centrifugal pumps, generators, cooling towers, machine tools, printing, and pulp and paper machines. The coupling transmit torque and accommodate both angular, offset and axial misalignment between shafts, with a coupling comprised of shaft mounted hubs connected through flexible disc packs with spacer or sleeve assemblies.
All covered disc couplings use stainless steel discs as flexible members, providing high strength and good corrosion resistance (fig 1). Each disc pack accommodates up to 0,5° continuous angular misalignment and can withstand start-up peak moments of two times the stated torque. The streamline design makes sure that the reaction load on equipment bearings is minimized. These disc couplings are inherently self-centring: additional provision for limited end float is not required.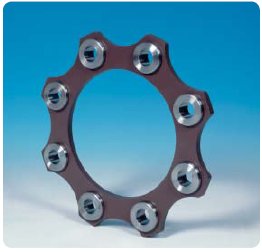 All disc packs are unitized and along with self-locking nuts, they greatly reduce the number of loose parts, thus simplifying installation and replacement.
The KD21 couplings are designed for medium and heavy-duty applications requiring moderate shaft separations. The minimal number of components yields an economical disc coupling solution to spacer applications. The larger sizes available in the KD21 series allow application to larger, high power machines. AGMA Class 9 is standard, as manufactured.
The KD2 coupling is designed for medium-duty applications requiring moderate shaft separations, and specifically engineered to meet API 610 specifications for industrial pump couplings. The factory assembled flexible centre section installs or drops out as one unit. AGMA Class 9 is standard, as manufactured.
The KD10 coupling is designed to work in place of standard close coupled gear couplings. The power capacity of the KD10 coupling is one of the highest in the industry, allowing the easiest conversion from a lubricated coupling to a low maintenance disc coupling.
The split spacer simply drops away from the hubs for faster installation and replacement of disc packs without moving connected machinery. Meets AGMA Class 8 as manufactured.