Tapered roller bearings

SKF Explorer tapered roller bearings for your toughest challenges
In today's industrial world, you need solutions that are able to handle the toughest challenges and ready to meet even greater demands. Solutions that work harder, work longer and work safer. Solutions robust enough to cope with challenging conditions and testing environments. Solutions that deliver longer and more consistent periods of uptime to ensure greater productivity and efficiency.
We understand what markets demand and the size of the challenges you face. Only through understanding these challenges can we come up with better, more effective solutions.

You need a tapered roller bearing that can handle high loads
A tapered roller bearing that is both durable and reliable
A tapered roller bearing that is not going to compromise your productivity and safety
A tapered roller bearing that can withstand challenging and extreme conditions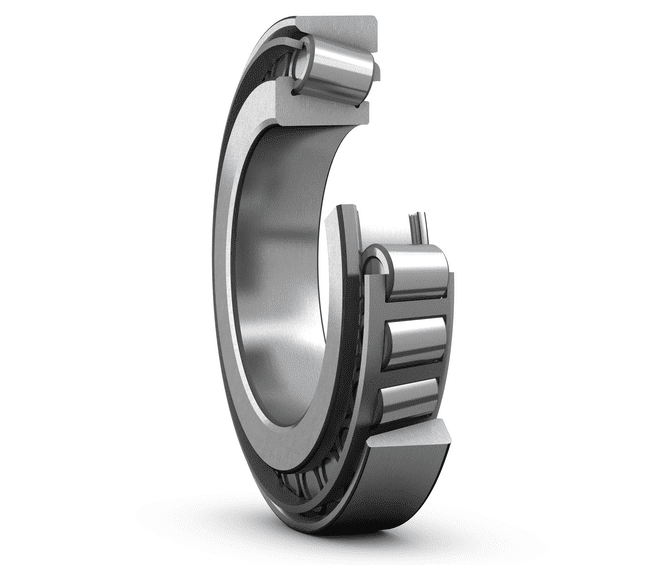 Tapered roller bearings have tapered inner and outer ring raceways as well as tapered rollers. They are designed to accommodate combined loads, i.e. simultaneously acting radial and axial loads. The projection lines of the raceways meet at a common point on the bearing axis (apex point A, fig. 1) to provide a true rolling action and therefore low frictional moments during operation. The axial load carrying capacity of tapered roller bearings increases with increasing contact angle α. The size of the contact angle, which is usually between 10° and 30°, is related to the calculation factor e (→ product tables): the larger the value of e, the larger the contact angle.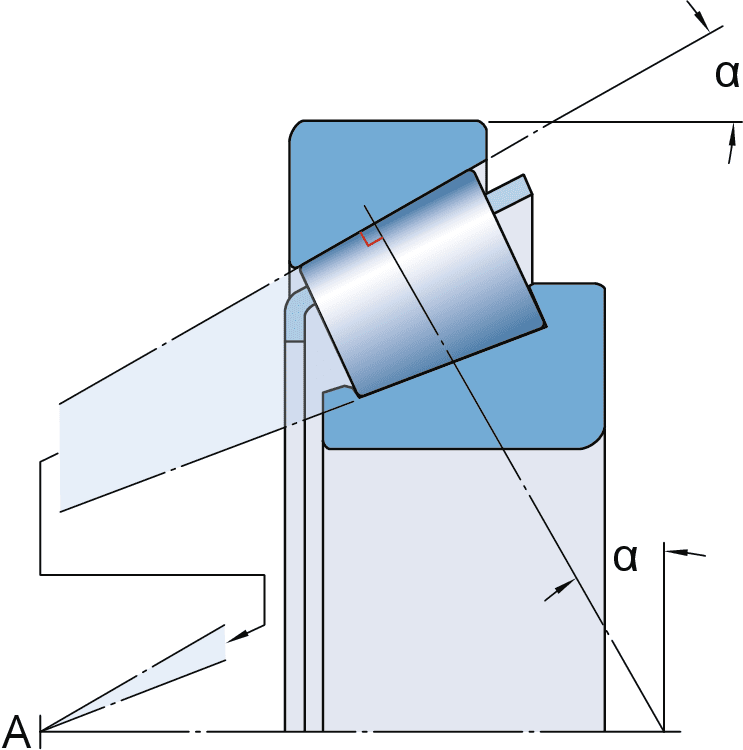 SKF manufactures tapered roller bearings in many designs, series and sizes:
Bearing features
Low friction

The optimized roller end design and surface finish on the flange (fig. 2) promote lubricant film formation, resulting in lower friction. This also reduces frictional heat and flange wear. In addition, the bearings can better maintain preload and run at reduced noise levels.


Long service life

The crowned raceway profiles of basic design bearings and the logarithmic raceway profiles of SKF Explorer bearings optimize the load distribution along the contact surfaces, reduce stress peaks at the roller ends (fig. 3), and reduce the sensitivity to misalignment and shaft deflection compared with conventional straight raceway profiles (fig. 4).


Enhanced operational reliability

Optimized surface finish on the contact surfaces of the rollers and raceways supports the formation of a hydrodynamic lubricant film.


Consistency of roller profiles and sizes

The rollers incorporated in SKF tapered roller bearings are manufactured to such close dimensional and geometrical tolerances that they are practically identical. This provides optimal load distribution, reduces noise and vibration, and enables preload to be set more accurately.


Rigid bearing application

A single row tapered roller bearing is typically adjusted against a second tapered roller bearing. By applying a preload, a rigid bearing application can be achieved.


Running-in period with reduced temperature peaks

Tapered roller bearings typically have a running-in period, during which a conventional design tapered roller bearing experiences a significant amount of friction, resulting in wear. This effect is noticed as a temperature spike (diagram 1). With SKF tapered roller bearing designs, friction, frictional heat and wear are significantly reduced, provided the bearings are mounted and lubricated correctly.
Separable and interchangeable

Depending on the design, tapered roller bearings are separable and components of same-sized bearings are fully interchangeable. For example, single row tapered roller bearings are separable (fig. 5), i.e. the inner ring with roller and cage assembly (cone) can be mounted separately from the outer ring (cup). This facilitates mounting, dismounting and also maintenance inspection routines.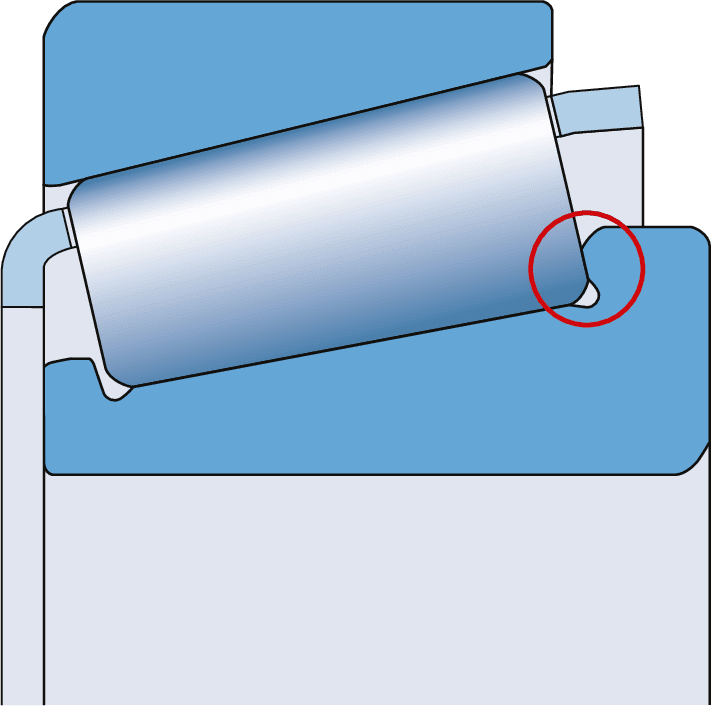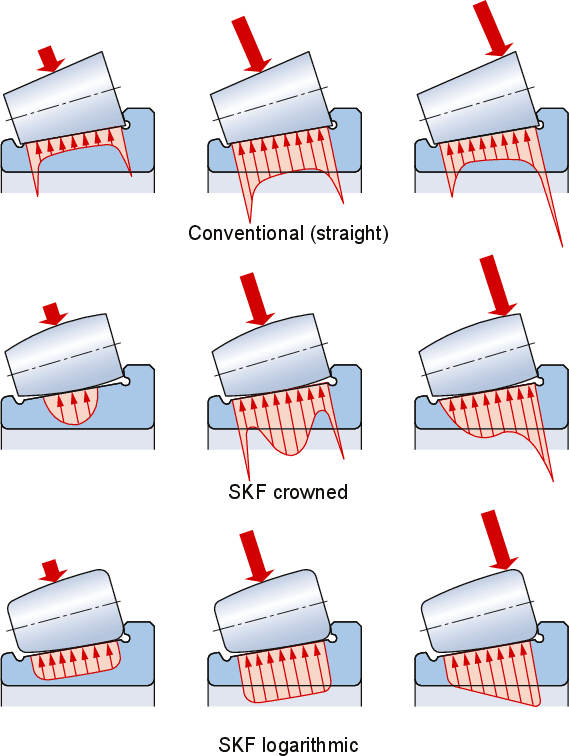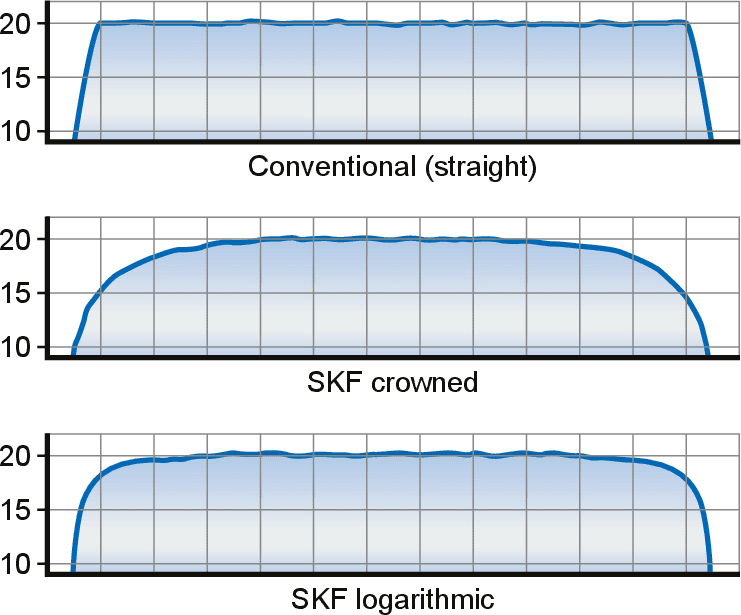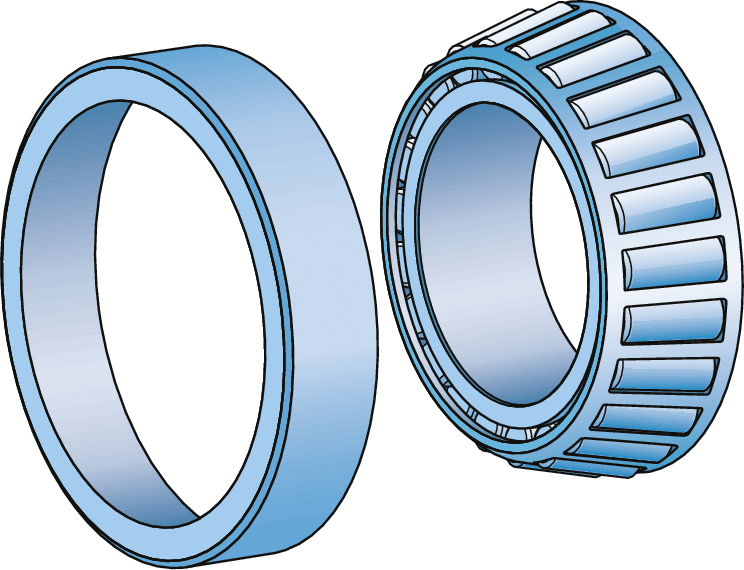 In addition to the bearings presented in this section, SKF supplies tapered roller bearings for special application requirements, including:
Bearings with Solid Oil
INSOCOAT bearings
NoWear coated bearings
hub units for industrial, automotive, railway and off-highway applications (→ contact SKF)
On request, SKF can also supply customized tapered roller bearings for various operating conditions to meet the customer and application requirements.