Cylindrical roller bearings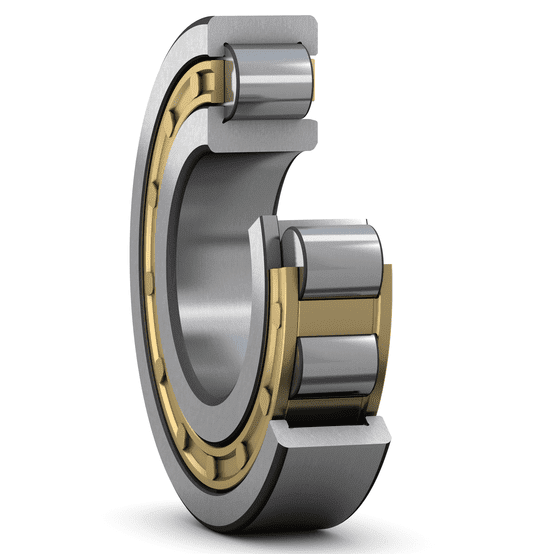 SKF cylindrical roller bearings are available in many designs, series and sizes. The major design differences between the bearings presented in this section are in:
the number of roller rows (one, two or four)
the type of cage (with, without or special designs)
Bearings with a cage can accommodate heavy radial loads, rapid accelerations and high speeds.
Full complement bearings (without a cage) incorporate a maximum number of rollers and are therefore suitable for very heavy radial loads at moderate speeds.
SKF high-capacity cylindrical roller bearings combine the high load carrying capacity of a full complement bearing with the high speed capability of a bearing with cage.
the configuration of the inner and outer ring flanges (position and number of guide flanges)
Bearing features
High load carrying capacity
High stiffness
Accommodate axial displacement (fig. 1)

Except for bearings with flanges on both the inner and outer rings.
Low friction

The open flange design (fig. 2), together with the roller end design and surface finish, promote lubricant film formation resulting in lower friction and higher axial load carrying capacity.
Long service life

The logarithmic roller profile reduces edge stresses at the roller/raceway contact (fig. 3) and sensitivity to misalignment and shaft deflection.
Enhanced operational reliability

The surface finish on the contact surfaces of the rollers and raceways supports the formation of a hydrodynamic lubricant film.
Separable and interchangeable

The separable components of SKF cylindrical roller bearings are interchangeable (fig. 4). This facilitates mounting and dismounting, as well as maintenance inspections.
In addition to the bearings presented in this section, SKF supplies cylindrical roller bearings for special application requirements. This assortment includes:
Bearings with Solid Oil
INSOCOAT bearings
Hybrid bearings
NoWear coated bearings
Super-precision bearings
Backing bearings
Indexing roller units
Cylindrical roller bearings and bearing units for railway applications (→ contact SKF)