Bearings with Solid Oil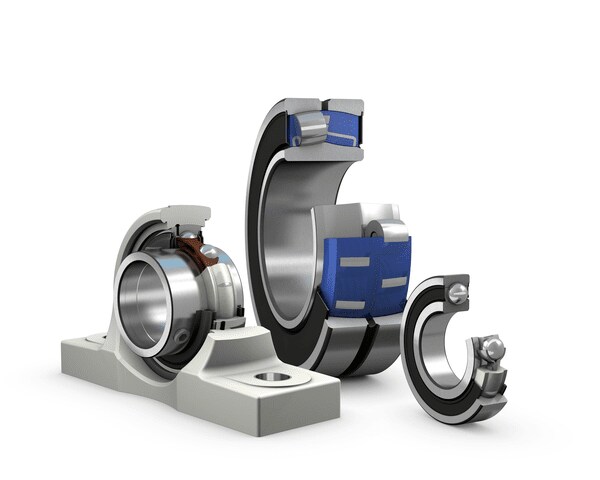 SKF bearings with Solid Oil are designed for use in applications where high levels of moisture and incidental contact with water and other contaminants are real issues. Bearings with Solid Oil are lubricated for the life of the bearing and cannot be relubricated.
Solid Oil:
is an oil saturated, polymer material
moulded into the bearing, forming very narrow gaps between the rolling elements, raceways and cage(s), enabling the bearing to rotate freely
having a porous structure, with millions of micro-pores that retain the lubricating oil by surface tension
virtually fills all of the free space in the bearing
releases oil into the narrow gaps, during operation, providing effective minimum quantity lubrication
Bearing features
Long service life
An increase in operating temperature pushes the oil toward the surface of the polymer material, supporting consistent lubricant supply. During shutdown, any excess oil is re-absorbed back into the polymer material.


Extended lubricant life
With Solid Oil bearings, a large amount of oil is available (two to four times more compared to conventional grease fill).
The Solid Oil polymer structure eliminates lubricant churning.
Solid Oil is a high-quality synthetic oil that resists oxidation.
Resists washout
Solid Oil cannot be washed out and virtually fills all free space, limiting the amount of wet contamination that can enter the bearing.
Water cannot mix with the oil or Solid Oil polymer.
Virtually eliminates lubricant leakage
Solid Oil retains oil in the bearing.
Integral bearing seals further increase the oil retention.
Protects against the ingress of contaminants
Close osculation between Solid Oil and the rolling elements and raceways significantly reduces the ingress of contaminants.
Solid Oil provides additional support for integral bearing seals.
Designs and variants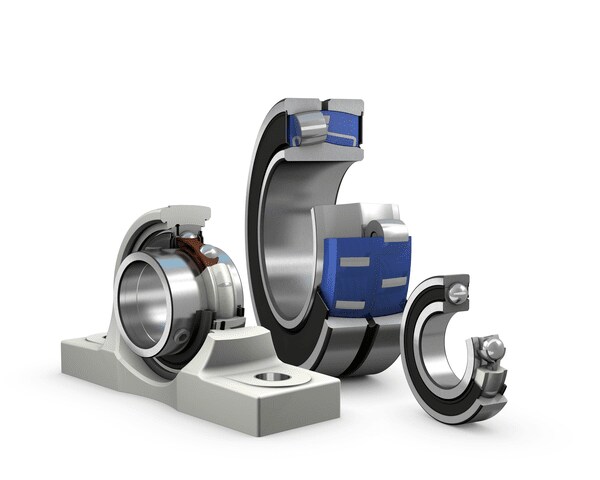 The SKF standard assortment of bearings and bearing units with Solid Oil (fig. 1) includes:
Deep groove ball bearings
Spherical roller bearings
Insert bearings and ball bearing units
Tapered roller bearings
Cylindrical roller bearings
Self-aligning ball bearings
On request, SKF can supply other bearing types with Solid Oil to meet the needs of a particular application, except for CARB toroidal roller bearings which are unsuitable for use with Solid Oil. Bearings fitted with a large-volume cage are not suitable for Solid Oil because there is too little free space inside the bearing.
Solid Oil variants
Standard variant (designation suffix W64, table 1)
contains a high-quality synthetic oil
meets the needs of most applications
Food-grade variant (designation suffix W64F, table 1)
contains an oil registered by NSF as a category H1
meets the needs of food applications
Sealed bearings
with integral contact seals are strongly recommended in wet environments


with Solid Oil increase the sealing effectiveness, as the Solid Oil supports the seals axially, preventing them from deflecting and opening under pressure
For information about sealing options, contact the SKF application engineering service.
Where carbon steel bearings are exposed to wet environments, additional external seals are recommended to protect the bearing's external surfaces from corrosion.
Bearing data
Dimension standards, tolerances, internal clearance
Refer to Bearing (unit) data in the relevant product section of the standard bearing (unit).
Loads
Load carrying capacity
The basic dynamic and static load ratings for bearings with Solid Oil are the same as for corresponding SKF standard bearings.
Temperature limits
The permissible operating temperature for bearings with Solid Oil can be limited by:
the dimensional stability of the bearing rings and rolling elements
the cage(s)
the seals
the Solid Oil
For limits of bearing rings, rolling elements, cage(s) and seals, refer to Temperature limits of the relevant product section of the standard bearing.
The relevant limits for Solid Oil are listed in table 1.
Where temperatures outside the permissible range are expected, contact SKF.
Speed limits
The recommended speed values for bearings and bearing units with Solid Oil (table 2), operating in an ambient temperature of 20 °C (70 °F), are limited by the maximum continuous operating temperature of 85 °C (185 °F). Ambient temperature is the temperature closest to the bearing position, not necessarily room temperature.
For bearing types or variants not listed in table 2, contact the SKF application engineering service.
For ambient temperatures above 20 °C (70 °F), the speed limit should be reduced using the reduction factor fT (diagram 1).
Calculation example
A deep groove ball bearing 6208/W64 is to operate at an ambient temperature of 50 °C (120 °F). What is the reduced speed limit?
Recommended speed limit for 20 °C (70 °F) ambient temperature
From table 2: speed value ndm = 300 000 mm/min (single row deep groove ball bearing with a stamped metal cage)
Dimensions: d = 40 mm, D = 80 mm
n = 300 000 / dm = 300 000 / (0,5 (40 + 80)) = 5 000 r/min
Reduction for 50 °C (120 °F) ambient temperature
From diagram 1: speed reduction factor fT ≈ 0,53
nreduced = 5 000 fT = 5 000 x 0,53 = 2 650 r/min
Friction characteristics
The friction characteristics of a bearing with Solid Oil correspond to the relevant SKF standard bearing except that the Solid Oil polymer filling adds a fixed friction.
Mounting
If a bearing with Solid Oil is to be hot mounted, it should be heated to a maximum of 120 °C (250 °F) by using an induction heater.
Heating plates or heated oil baths should not be used.
Designation system
Refer to Designation system in the relevant product section of the standard bearing/unit.
The designation suffixes used to identify bearings with Solid Oil are explained in the following:
| | |
| --- | --- |
| W64 | Synthetic base oil type, standard variant |
| W64F | Synthetic base oil type, NSF H1 approved for food applications |