SKF Taconite Seal


One global design for split housings for extremely contaminated and wet applications
The SKF Taconite Seal consists of two rings (one stationary and one rotating) which form a very narrow labyrinth between the two rings. The rotating labyrinth ring carries a V-ring seal that seals against the stationary labyrinth ring. The V-ring seal blocks contaminants from entering the bearing housing and aids the purging of contamination and old grease when something like a mining seal is re-greased.

How the SKF Taconite Seal can be used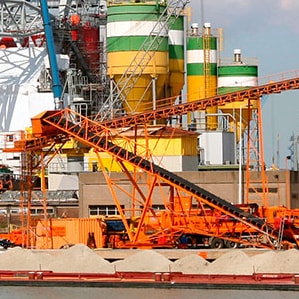 Conveyor pulley bearings saved from gross grease contamination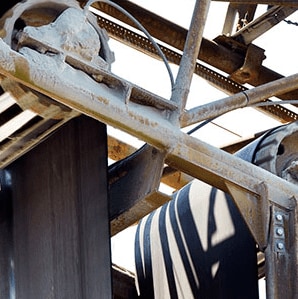 Conveyor pulley upgrade pays off: up to 5 year service life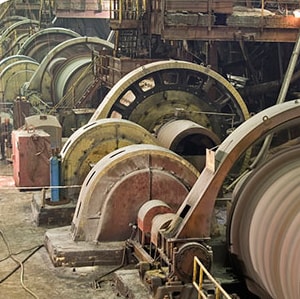 Gold mine upgrades grinding mill pinion to prevent water ingress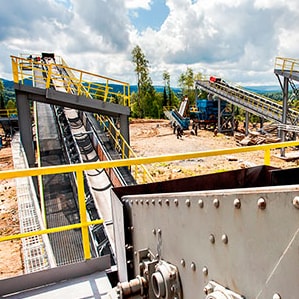 Reduced grease contamination for conveyor pulley

Superior protection and easier alignment
Multi-stage axial labyrinth cartridge seal – includes two labyrinth rings, an internal low friction V-ring seal and provision for grease purging
Flinger action – the rotating labyrinth ring flings water away from the seal
In-groove or bolt-on seal designs – for SKF split housings. Seals can be customized for use with competitor housings
Inch or metric sizes – a wide product range to fit housings with different shaft sizes, from 50 mm (1 15/16 in.) to 450 mm (18 in.) as standard. Contact SKF if larger sizes are needed.
V-ring seal and O-rings – made of Acrylonitrile-butadiene rubber (NBR)
Easy alignment – circumferential groove on the outer diameter surface of the stationary labyrinth ring aids assembly and alignment. Grub/set screws in the rotating labyrinth ring firmly secure it to the shaft.
Worldwide availability – SKF can meet the needs of multinational producers and just-in-time delivery programmes
Features:
Cartridge Taconite Mining Seal of machined cast iron or steel
Three and four axial labyrinth stages
Internal V-ring seal to exclude contaminants and enable grease to purge
Rotating labyrinth ring faces bearing housing to deflect and fling away water
Short installed axial length
The rotating labyrinth ring is sealed to the shaft by an O-ring in its bore
3 grub/set screws (at 120°) to center the seal on the shaft
± 0.5° misalignment capability
Circumferential groove to aid alignment and assembly
Fits SKF metric SE, SNL, SNL 30, 31 and 32 series
Fits SKF inch SAF, SAF B, SAW, SAFD and SDAF housings


Benefits:
Excellent exclusion of contaminants
Improved water ingress prevention (including high pressure washing)
Longer bearing and mining seal service life
Reduced grease consumption
Reduced environmental impact
Compact design
Easier installation and alignment
Compatible with new and older housing
Grease filling and purging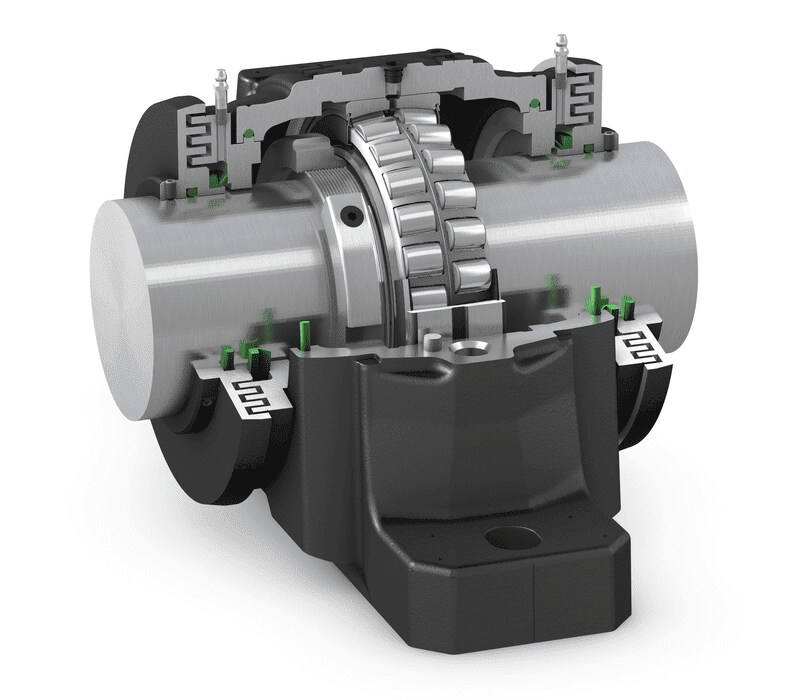 The SKF Taconite Seal is supplied with a grease fitting for the re-greasing of the labyrinth. This purges the labyrinth of contamination and helps block the entrance of contaminants.
The seal can be greased three ways:
Manually with a grease gun
SKF SYSTEM 24
SKF Automated Lubrication System (ALS)
To fill and purge SKF Taconite Mining Seals, the grease used to lubricate the bearing, or one that is compatible with it, should normally be used. Where a sealed SKF spherical roller bearing is used, SKF recommends SKF LGEP 2 grease, which is the original factory fill grease in sealed spherical roller bearings with VT143 suffix.
For lubrication with SKF SYSTEM24, use LGWA 2 grease.
Depending on their compatibility with the grease used to lubricate the bearing, other SKF greases can also be used – according to operating requirements:
SKF LGHB 2 – higher ambient temperature applications
SKF LGWM 1 – cold climates
SKF LGGB 2 – biodegradable grease
SKF Taconite Seal designation system and selection guide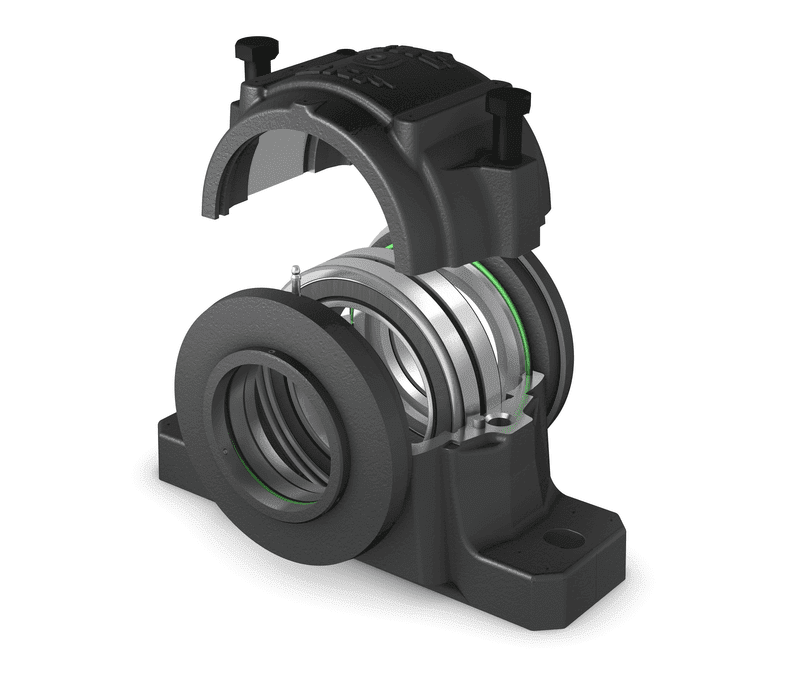 All SKF Taconite Seals for Mining and other applications have the designation prefix TK. The seals can be ordered in metric or inch dimensions. An SKF Taconite Seal can be ordered as an individual item for metric or inch dimensions or as part of a kit with the SAF, SAF B, SAW, SAFD and SDAF inch housings.
Designation for metric sizes consist of the prefix TK and the housing size. Designation for inch sizes consists of prefix TK and the number from table 1. For non-standard sizes, contact SKF application engineering service.
Examples for ordering SKF Taconite Seals only:

Metric housing, adapter sleeve: TK.. eg. TK 524

Inch housing, adapter sleeve: TK.. eg. TK 115 V

Select your SKF Taconite seal type
Housing with SKF Taconite Seal – "in-groove"


Fits into the seal groove of SKF split housings. The SKF housings do not require modification to accommodate the new "in-groove" SKF Taconite Seal. "In-groove" seals have three or four stage labyrinths, depending on size and appropriate for many situations such as the mining industry. (fig.1)
For shaft diameters from 50–140 mm (1 15/16–5 7/16 in.) labyrinth have three stages; for shaft diameters 150 mm (5 15/16 in.) and larger, labyrinth have four stages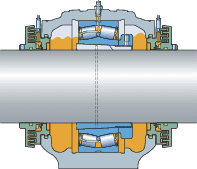 Housing with SKF Taconite Seal – "bolt-on" – optional for larger sizes

The optional SKF Taconite Seal for larger sizes (from size 68) is flanged for bolting to the housing. The SKF housing can be delivered from the factory with the necessary machining or, with existing housings, can be modified by a local SKF Solution Factory to accommodate the new SKF Taconite Seal in the larger sizes. (fig.2)
"Bolt-on" SKF Taconite Seal has four labyrinth stages.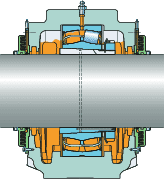 The ultimate SKF Three-Barrier Solution
For optimum performance in extremely dirty and wet applications, especially where high-pressure washdowns of the machinery are common, SKF recommends the ultimate three-barrier solution:
SKF housing with SKF Taconite Seals – primary barrier: prevents ingress of solid and liquid contaminants, even during high-pressure washdowns
Grease barrier – secondary barrier: grease fill in bearing housing cavity
Upgraded sealed SKF Explorer spherical roller bearings – final barrier: excludes contaminants during initial installation and in operation
WARNING
All rotating machinery requires adequate fixed safety guards, including the exposed rotating labyrinth ring of SKF Taconite Seals. If manual purging of the labyrinths is used, provisions must be made for the safe purge/re-greasing of the labyrinths by extending the grease supply fittings to the outside of the safety guards.