Withdrawal sleeves


Withdrawal sleeves can be used to mount bearings with a tapered bore onto the cylindrical seat of stepped shafts (fig. 1). The sleeve is pressed into the bore of the bearing inner ring, which abuts a shaft shoulder or similar fixed component. The sleeve is located on the shaft by a nut or an end plate. KM or HM lock nuts (→ Lock nuts) with appropriate locking devices are suitable. Lock nuts are not supplied with the sleeve and must be ordered separately. End plates are not produced by SKF.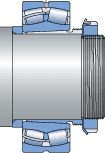 Appropriate nuts that facilitate the mounting and dismounting of bearings on sleeves and those required to remove the withdrawal sleeve:
are listed in the product table
must be ordered separately
SKF recommends using a hydraulic nut (fig. 2) to press the withdrawal sleeve into the bearing bore, as a considerable amount of force is required to overcome the friction between the bearing, sleeve and shaft.